One of my hobbies is wire craft. When I have free time and inspiration, I can get caught up in the creative process and built interesting stuff – see below 🙂
I have always liked drawing although I haven't gone to any kind of special drawing classes accept for school, so those drawings can appear unprofessional, but I personally like them.
Here I tried to draw a reconstruction of a reduite in Daugavpils Fortress, Latvia.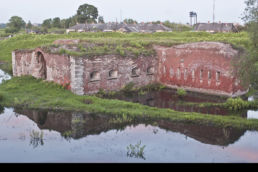 The design of a commemorative medal for the participants of the re-enactment festival was based on my sketch, that I drew in 2018.
With some tweaks and adjustments of the sketch by the company that designs and produces medals, a final medal design was made in 2019 for the re-enactment festival "Dinaburg 1812" in Daugavpils Fortress.