Two-day fish and harvesting market took place in Jyväskylä's Lutakko area. I visited it both days and the weather was very different each time.
#Jyvaskyla #Lutakko #market #harvest #autumn #Wemmi #centralfinland #food #handicrafts #fish #meat #event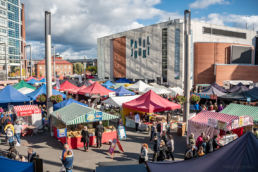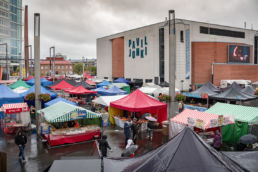 This event is organized in Jyväskylä since 1994. Here you could find tasty locally grown food from farmers, fishermen and other producers as well as handicrafts made by artisans.
Here I tried interesting spicy latte served from a van.
I also tasted delicious pancakes made by Rural Women's Advisory Organization which is one of the main participants of the event. Founded in 1930s to exchange experience and knowledge, today it is a nationwide expert organization and an extensive women's network in the rural areas with more than 50 000 members.
Inside of Pavoljonki I found more handicrafts, food, coffee and tea. There was also an exhibit of Finnish Championship in Food Craftmanship winners. The competition is open to all Finnish, Nordic and Baltic participants. I was excited to know that competitors from Baltic States are participating too and one of the winners was an Estonian participant. I heard that Latvian brand took a part in the competition too, but unfortunately it didn't get any awards.
It was interesting and a bit challenging to shoot the event in the rain. This uncomfortable weather creates conditions for more unusual situations and ground becomes reflective surface adding details, and mood to the photos. Luckily, it was possible to hide from the rain inside of Paviljonki.
While attending this market I tasted delicious and interesting local food, talked to different people and documented the event by photographing it. I hope you found my photos interesting too!